Home-grown herbs for your cocktails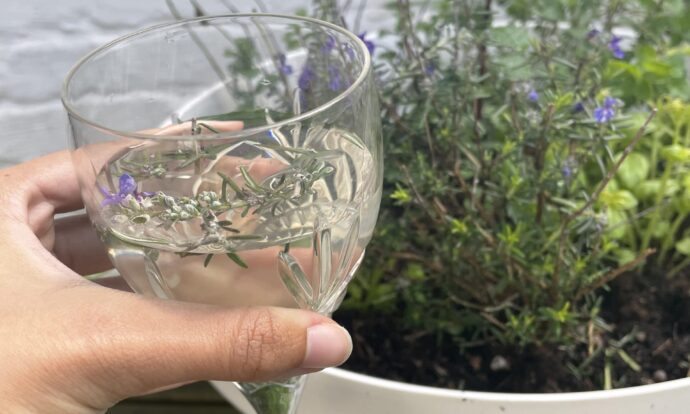 Our home-grown herb garden collections are great for cocktail making. We love adding these fresh herbs to garnish our cocktails. We currently have 'The Pot and Kettle' collection, The Gin and The Herbalist and we went on an exploration to find the best cocktail recipes to make using some of our herbs. What better way to usher in the longer days than with a celebratory cocktail in the garden…
Rosemary Gimlet
Perfect for a Spring afternoon, just as your rosemary is coming back into season. This gin and lime-based cocktail is given a herbal kick with the addition of some rosemary syrup. Full recipe can be found by David Lebovitz here.
Ingredients:
Rosemary Syrup – 125ml water, 100g sugar, 2 tablespoons (4g) coarsely chopped fresh rosemary leaves
To make the gimlet – 2 ounces gin, 3/4 ounce fresh lime juice, 3/4 ounce rosemary syrup
Instructions:
Make the rosemary syrup by heating the water, sugar and chopped rosemary leaves (straight from your Pot and Kettle herb collection) in a small saucepan, stirring occasionally, until the mixture is hot and sugar is dissolved. Remove from heat and let the syrup cool completely. Once cool, strain the rosemary syrup into a jar, and refrigerate until ready to use
Chill a stemmed cocktail glass in the freezer
Measure the gin, lime juice and rosemary syrup into a cocktail shaker
Fill the shaker halfway with ice, cover, and shake the gimlet mixture for about twenty seconds, until very cold. Pour into a chilled cocktail glass. Garnish with a sprig of rosemary or a slice of fresh lime
Thyme Gin Cocktail
Another gin-based cocktail, getting ready for the warmer days to come. This cocktail is also perfect to be served as a mocktail, and has many ingredients that are known for their medicinal qualities. Full recipe can be found on the Gin Queen's website here.
Ingredients:
Thyme-infused honey – 125ml of water, 5 sprigs of fresh Thyme, 65ml of honey
Cocktail – 1/2 cucumber (thinly sliced), 15ml lemon juice, 30ml thyme-infused honey, 45ml of gin, 30ml ginger beer, 2 sprigs of fresh thyme (to garnish)
Instructions:
Put water in a saucepan and bring it to boil. Remove from heat and add the thyme (freshly picked from your Pot and Kettle). Let it sit for 15 minutes, and then remove thyme sprigs and whisk in the honey
Add 4 slices of cucumber, lemon juice, and thyme-infused honey into a shaker, and muddle. Add gin, ice, and a pinch of sea salt. You can then add some ginger beer
The Muddy Mojito
Like the traditional mojito, but using specific Muddy Trowel sourced ingredients such as spearmint, this refreshing cocktail is great with or without alcohol and will be the perfect introduction to the bank holiday weekend. Inspired by a recipe from Twice Element.
Ingredients:
Cocktail – 10 fresh spearmint leaves, 1/2 lime, 2 tablespoons white sugar, ice cubes, 50ml white rum, sparkling water
Instructions:
Place the spearmint leaves and lime into a large glass
Crush the mint and lime
Add sugar
Fill glass with ice
Add the rum and sparkling water
Stir well, and voila!
All cocktails are to be enjoyed with good company and much merriment and joy!! (but please drink responsibly)